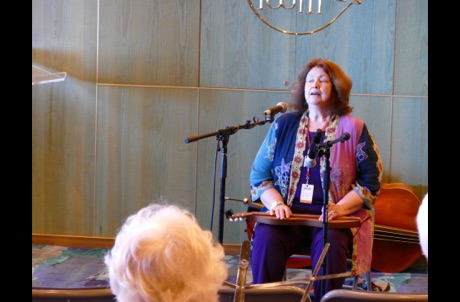 Open Mike sessions began the second day headed off with Sara Keller. Unfortunately, not all of our videos and pictures came out well enough to post on the website. We tried to get at least 20 seconds of each performance on here.
The movie below is our second Open Mike session. Karen Broderick sang harmony with Judy Barrett. Margaret Crowl humored us with a couple of delightful and thoughtful songs. Dorothy Waite and Carolyn Lesh complemented each other beautifully. Sara Keller can really sing and that cute little dulcimer is a blast. Then, of course, there is Janet Dove's peaceful and warm style. All very well done!
Just above you'll see our fourth Open Mike session. Featured, along with friends, were Jonathan Wolkomir, Vicki Lehman, Sara Keller, Mike Wolkomir, Betty Scott and Neal & Coleen Walters. Performers often asked others musicians to join them at Open Mike.
Eileen Kozloff's unique talent was exhibited (below) for us as she demonstrated a few of the songs on her new CD. This occurred before the jam. As you can see (below), she also asked several MLAG friends to back her up on a couple of songs. What style!
Gregg Avertt started off our fifth and last Open Mike session for the cruise. He claimed to have a poor voice due to cold but who could tell? Carolyn Lesh performed with Niels Jonker and Bill Eyler and showed that she can yodel with the best of them. Then Dave Baumann and Barbara Herber-Baumann hit us with your wonderful story lyrics and harmonies. Was that the ocean or Barbara making the ship sway to the beat? Sara Keller helped Kathie Ann Wieland with a song. Kathie can write songs and is a pretty good guitarist too. Margaret Crowl kept us straight with a gospel classic and also sang a French song learned in high school. Ask her about it sometime. Howard McGhee took his harmonica and autoharp to do justice to Danny Boy. Mary Larson and Edwina Goodhue live far apart but should get together to sing and play more often. Next up was "Big Bad" Jon Wolkomir. He's a good guy and sang songs of his native Alaskan roots. Cindy Harris lit the room up with her smile and clever singing and playing. Betty Scott only came to play the autoharp but received a standing ovation. Bob Grappel played with Sara Keller as she taugh us a new song. This was a talented Open Mike session…they all were!